Billings Montana Wedding Photographers – Kimberly & Kyle 5.10.14
We had the BEST time being Billings Montana Wedding Photographers at Kimberly & Kyle's beautiful wedding in Billings, MT.  Kimberly looked absolutely stunning and Kyle was sharp as a tack.  These two are real love birds and have been literally flying back and forth across the country to keep it that way.  They now both are in Texas, but soon will be relocating to Nashville, TN for Kimberly's final steps to become an anesthesiologist.  We were so excited when Kimberly told us that she wanted to be married in her home town of Billings, Montana.  She will always be a true Montana girl!
One of my favorite moments of a wedding is the first look – when the bride chooses to see the groom prior to the ceremony.  Kimberly and Kyle's first look was downtown Billings at the James F. Battin Federal Courthouse.  After running around downtown Billings dodging the rain it turned out to be the perfect location for Kimberly and Kyle to see each other for the first time on their wedding day.  The look on Kyle's face when he saw his bride was priceless!  We always feel so blessed when we get to witness these lovely moments!
Kimberly and Kyle were married at the Yellowstone Boys and Girls Ranch.  The reception following the ceremony was at the charming Northern Hotel.  Kimberly's stepmom did a lot of the decorating and it turned out so beautiful! It was a fantastic Montana wedding for two amazing people.  We know these love birds will do so well together wherever they end up.  Thanks Kimberly and Kyle… enjoy your sneak peek!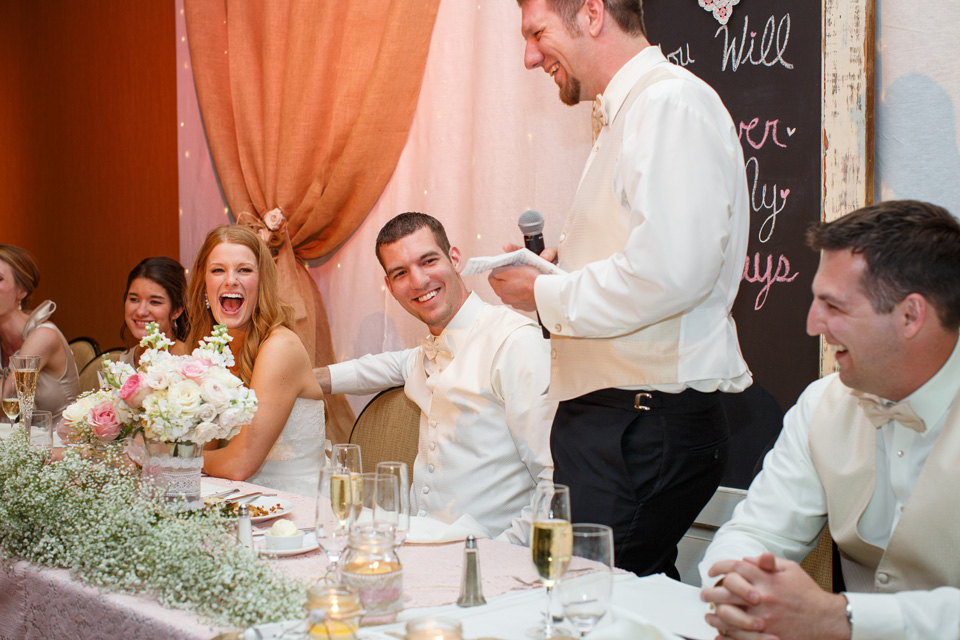 Ceremony Venue: Yellowstone Boys & Girls Ranch | Reception Venue: Northern Hotel | Hair: Lyndie at Vintage Hair Studio | Makeup Artist: Sage Salon Florist: Mac's Floral | Cake Artist: Jayne's Signature Sweets | Day of Coordinator: Magic City Events | Videographer: Justin Hutchinson Videography | Transportation: Billings Trolley and Bus Company | Reception Band: Bucky Beavers
To view more images from this Montana wedding, click here.