This wedding is one of the most memorable weddings we have ever photographed!  Why was it so memorable, you ask?  It's a combination of two reasons. Reason #1-  It poured rain the ENTIRE day.  It felt like we traded the beautiful fall Montana weather for a coastal tropical storm. Reason #2- I didn't hear the bride say a peep about the weather.  She didn't complain once and had the most graceful and thankful attitude.  As far as photos go, sometimes rain can be a huge obstacle.  It was; however, Jack and Erin's positive, up-for-anything attitude was super helpful for us to create beautiful imagery despite the weather! They were just happy to be in each other's arms, giving God the glory all the way through.
The ceremony and reception were inside at the gorgeous Kootenai Lodge on the north end of Swan Lake in Bigfork, Montana.  It was a perfect venue for a rainy wedding day- a cozy Montana lodge.  You can bet the fire was ablaze all day long!  It was a black tie affair and Erin & Jack's wedding guests were definitely dressed to the nines.  It's not often that us Montanan's get so dressed up, but Erin & Jack's guests proved that we know how to. :)
Thank you to Courtney of 114-West who was tremendous in helping us and everyone the entire day.  Our hearts will be forever thankful to Erin and Jack's family and friends who gave us such a warm welcome from the moment we arrived.  Congratulations you two- enjoy your wedding photos!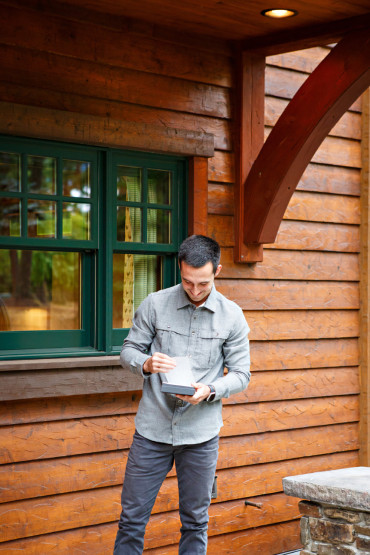 To view more images from this Bigfork Montana Wedding day, click here.
Wedding Coordinator: Courtney of 114-West
Venue: Kootenai Lodge
Bride's Bouquet: Mum's Flowers
Bride's Gown: J.Crew
Groom's Tux: J.Crew
Makeup Artist: Britlee of Envy Salon & Spa
Videography: Rainy Parade Films – see Erin & Jack's beautiful wedding video here.